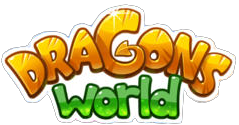 ---
Developer: Social Quantum | Platforms: iOS, Android, and Facebook | Difficulty: Easy
Age Range: 9+ (13+ if connecting through Facebook) | Objective: Grow and Collect Dragons
---
"Raise dragons and watch them grow from little babies into huge, beautiful creatures. Breed unique dragon species using the ones you already have. Build and develop your dragon sanctuary on the Flying Islands"
---
General Information
Edit
Title: Dragons World
Publisher: Social Quantum
Description: See Above
Similar Games: Dragon Story, Dragon City, DragonVale
Genre(s): Mobile Platform
Playthrough Length: Continuous
Difficulty: Easy
Security Concerns: Sharing or connecting Facebook and GameCenter IDs with other players
---
Multiplayer Information
Edit
Online Multiplayer: Sending Crystals to other players and visiting other players sanctuaries
Connectivity Structure: Internet or 4G is required to play
Age of Community: For All Ages
---
Gameplay Information
Edit
Ratings: None
Content Labels: Dragon Breeding, Dragon Collecting, Island Decorating
---
Cost Information
Edit
Subscription: Facebook or Gamecenter Accounts
Download Cost: Free
In-Game Purchases: Freemium: In-game purchases can be made, but are not required
Gambling Elements: None
---
Wiki Information
Edit
Title of Wiki: Dragons World Wiki
Community Description: A fan-made community with no association with Social Quantum or the content included in Dragons World.
Age: 13+ as per Wikia Terms of Use
Wikia Accounts: Registering with Wikia is free and confirms that contributors are at least 13 years old and agree to the Terms of Use.
---
Contact Information
Edit
Dragons World Wiki Contact Information: The Dragons World Wiki's active administrators, other wiki staff, and regular community members will be happy to try to help if they can. They may be contacted through his/her message wall.
Wikia Contact: Private messages can be sent directly to Wikia Staff through here.
Social Quantum Contact: Customer Support: General Support