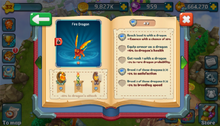 The book of dragons is a bestiary which contains all the dragons in the game.
The dragons that the trainer currently possesses are highlighted, and the trainer can select the [Show only mine] button to list only the dragons they possess.
Game Functions
Edit
The Book of Dragons allows dragon trainers to boost specific perks of possessed dragons and earn tokens (

) by completing tasks.
Example: The Fire Dragon can be enhanced by breeding two fire dragons to unlock +5% Satisfaction for them.
Be aware that you need to fulfill the tasks at any time to keep the perks/tokens. In the example above, if you sell a fire dragon (and only have one left) the +5% Satisfaction and token gained will be lost.
Every dragon has 6 tasks: 5 quests and 1 decoration task.
Completing a task will be rewarded with a new perk or increase the percentage of an existing perk[1]. These perks are added to all dragons of the same kind, e.g. the +5% Satisfaction in the example above is applied to all Fire dragons including new Fire dragons bred after receiving the reward.
A quest consists of ranking dragons, reaching dragon levels, equiping armors, and/or breeding dragons of the same kind. Each of the quests is rewarded with one token.
The decoration task requires the trainer to purchase and place a specified quantity of 3 specific decorations on their islands to unlock the enhancement. Each of the 3 decorations needed is rewarded with a token (i.e. completing a decoration task will earn you 3 tokens).
The tokens earned is only used to show the trainer's progress and a list of the Top 100 Players with the most tokens.
Perks Chart
Edit
The Book of Dragons perks/boosts can be found on the Book of Dragons Perks Chart page.
Community content is available under
CC-BY-SA
unless otherwise noted.